Hello There! The materials and resources you obtain from this blog are available to you at no cost for personal use.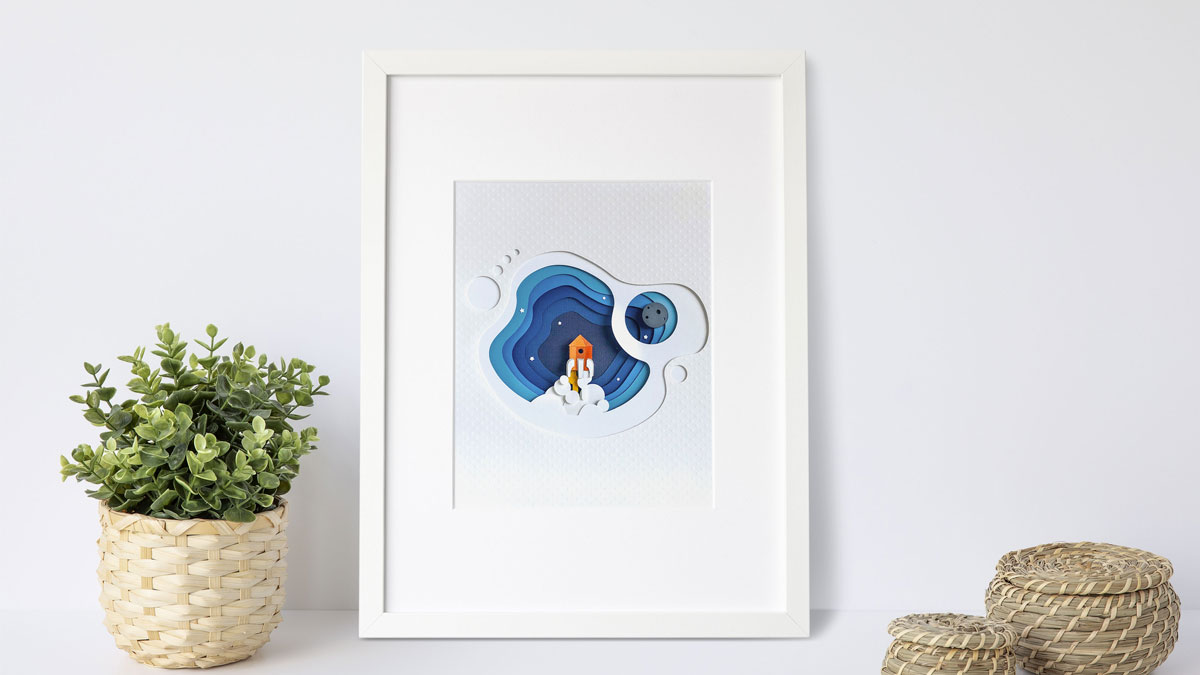 What this is about
This article shows you how to create this spaceship paper art that anyone would appreciate receiving, and great to hang up in a kid's room. This project involves intricate pieces, however, it is easy enough for a Cricut beginner skill level to follow.
space
The successful historic launch of the Space X Crew Dragon was quite a feat to witness, and along with many others, the boys and I joined the cheers from our small living room. Inspired by this event, I am posting my version of a capsule in space made of cardstock paper for you to make in your own home.
You will need:
Cricut Maker / Explorer (or any SVG friendly die-cutting machine)
Cricut Mat (blue or green)
Cardstock Papers
Craft paper glue
Double-sided foam tape
Download "Free Falling" SVG by logging in to my design resource page. You will receive access through your email below, and the password via email 24 hours later (working on getting this quicker).

There will be two file formats – square and rectangular.



For the cardstock paper, below is the color palette for your reference. You don't necessarily have to stick to these colors. I created this as your guideline if you wish to apply the same hues I used. While I would have wanted to use white for my capsule, just like that of Space X's Crew Dragon, I opted for complementary colors instead – blue and orange, a color combination that produces a vibrating effect to make the capsule pop against its background.
Why use different shades of one color?
The variation of the tint/tone of the color gives this spaceship paper art a more visual appeal. You certainly can use one shade for your capsule; however, the different tonalities help create that three-dimensional look. In addition, you can also use patterned paper to break up some of the whites. In this example, I opted for dotted white cardstock.

The Process
STEP 1: UPLOAD. Upload the downloaded SVG to Cricut Design Space, and adjust the size of your project, however, please note that going too small may cause problems with cutting the tiny pieces. If you wish to go lower than 5×7 (rectangular format) or 6 x 6 (square format), try to do a trial cut for the smallest parts before committing.


STEP 2: CUT. Using Cricut DS, proceed with cutting the pieces. Try to be strategic with your method. Here below are some tips.


TIPS:
TIME. Make sure to allocate enough time to do this project. While you can finish this in an hour or two, putting together the pieces will take some time, but I promise you, you will be glad to see the result.
SHARP BLADE: Like any Cricut projects, a sharp blade equals less trouble for your project. Doing a test cut is ideal before moving on to more significant and intricate pieces. You may try to sharpen the blade (if needed) by safely poking it into a ball of tin foil.
SAVE TIME. I find that using snap mat cuts the cutting time and process in half specifically for the smaller pieces like the spaceship, clouds, moon, and stars. However, please note that the snap mat feature is only available with the Cricut Design Space IOS app. If you're interested in this snap mat feature method, please read the snap mat section below.
STAY ORGANIZED: I recommend starting with the larger pieces as opposed to the smaller ones. Not only does it help build up the excitement as you see the layers reveal themselves while placing them on top of each other; more importantly, it also helps with not missing these tiny parts.

STEP 3: ASSEMBLY. Here is my suggested sequence of putting it all together:
Layers
Spaceship
Moon
Steam
Stars
Why You Should Use Double-Sided Tape
The idea is to create a sort of 3D effect of this spaceship paper art. You may use glue, but with the double-sided foam tape, you can elevate the layers, giving it depth allowing more light and shadows to cast on the paper.
Why Cricut Snapmat
This feature allows you to visualize your image placement on the mat by taking a snapshot of the actual Ciruct mat itself along with the material(s). You can then move the pieces around based on the colors you want the images to have. It is best to use the same type of paper grammage (weight) to ensure a successful cut since you are applying one cut-setting for all of them.
STEPS
Upload your image to Cricut Design Space. You may do this step directly on your IOS if you have access to your file by cloud or saved in phon or IPad's file folder. If you don't have both, you can use your desktop to upload and save the file to DS, then go back to your IOS (mobile) to proceed and retrieve by going to the UPLOAD icon, then choose "open uploaded images."
Place your materials on your mat.
Once you're ready to cut, click on MAKE. On the screen, you will find the SnapMat icon.
Capture the mat. This step can get a little tricky. What seems to work is to place it on a contrasting background. It also requires one to be steady. If you're having trouble, try placing the Cricut mat on the floor (with good lighting), right below the edge of a table, and utilize it as support for your device while you're trying to take a photo. The marks have to align for it to work.
Move your images. Great! You've snapped the mat! You will then move the pieces according to the material's color of your choice.
Cut. Once done, follow the prompts for the setting and proceed with actual cutting.
Stay inspired,
R i c h e l l e