Simplifying Life With A Capsule Wardrobe : 3 Months & 33 Pieces
Richelle, 5 years ago
22
5 min

read
8202
Wouldn't it be nice to wake up in the morning and not have to worry about what clothes to wear? The moment our alarm clock not so gently reminds us to start our day, the decision making process begins. From choosing what outfit to wear, the shoes to pair it with, whipping up the fast but healthy breakfast meal, diving into the 100 email inbox, productive project prioritization, and selecting the daily lunch spot, can make even the best of us quivering bowls of pudding by mid-day. Then there is the kiddos, which add yet another layer to those daily decisions.
There comes a time in your life when the need to simplify, becomes a personal quest in hopes to spend more time and energy on what is truly essential- a path I am currently exploring.
Fashion has always been a great way of infusing fun and creativity into my day to day life. When it comes to styles, colors, patterns, structures, and textures of fabrics and accessories, the possibilities are endless. In fact, many women, such as myself, have fallen into the "fast fashion" world, where clothing is designed, produced and distributed at a much quicker pace and at inexpensive prices. With today's instant gratification of online shopping and shipping, it is easy to fill your closet with "stuff", and stuff was what I had. Looking back a few months ago, I recall a walk-in closet full of clothes where I could possibly wear a different outfit combination every day for an entire year. Even so, I still found myself thinking I had nothing to wear.
I once read an article stating that the average woman today owns 5 times the number of clothing items as opposed to our counterparts 60 years ago, yet we spend remarkably less in terms of cost per piece. What's the trade off? Quality and a stuffed landfill.
Minimalism is not the lack of something, it is the perfect amount of something -Nicholas Burroughs
So what is a capsule wardrobe?
I first heard about it a few years ago. As part of my research for this article, according to Wikipedia, Susie Faux, an owner of a boutique in London in 1970s called "The Wardrobe", first coined the term capsule wardrobe. It was later popularized by American Designers like Donna Karan in the mid 80s. It basically refers to a collection of timeless staple clothing pieces that do not go out of style.
In 2010, Courtney Carver of bemorewithless.com started the #project333 movement. Enjoying her inspiring quotes, I now follow her on Instagram. When I came across her minimalist fashion idea 2 years ago, to "give up" or to lightly put it, stow away 75% of my closet was something I couldn't wrap my head around. It was like asking an artist to relinquish her precious paint brushes. So why the change of heart? During our recent move, our little Honda Element was so packed that I could only take a suitcase with me. The rest were stored in a pod on its way to our new home. Unknowingly, I managed to utilize what I had brought in my suitcase, and cycle through the limited options for weeks. Weeks then turned into months, and winter into spring. I realized that focusing on important and productive aspects of my life, made me think less of my appearance, while still taking good care of myself. To embrace the new spring season, I decided to open the boxes I had left in storage and began to make the sort. My doubts turned into excitement, and I am here now to share it with you…
T H E R U L E S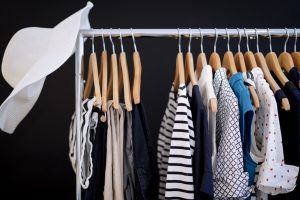 O N E : 3 Month Period
T W O : 33 Pieces of clothes, shoes, jewelries (excludes those you never take off) and other accessories combined. This however, doesn't include your pjs and other outfits you wear around the house nor your workout clothing.
T H R E E : After choosing your 33 items, box up the remaining pieces (some for storage for next season and donate those you no longer wish to keep).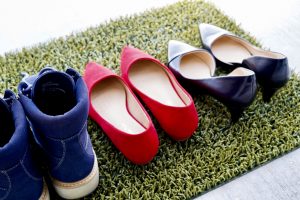 M Y M E T H O D
Sorting. I had 3 piles:
Keep (with the Spring season in mind);
Storage (for the later cold season) ; and
Donate (those that need a new owner) .
If they were not worn within the last 2 years (longer time frame in my case. I was pregnant for 9 months of that, otherwise, it would be one year), to the donate pile they went. I did not allow myself to reminisce the memories of those outfits, however, I did one from 15 years ago which I decided to keep. It is a knee length pencil skirt I wore when I first met my husband.
Itemization. My 33 consists of:
15 tops
6 pants including 1 shorts
3 light jackets/blazers
4 pairs of shoes
2 belts
a dress
a hand bag
a hat
Timelessness. With it in mind, it is typical to default to neutral colors especially black and whites but with spring, I wanted to keep some pop of colors.
There is one style I must say a woman should have as part of their capsule wardrobe, the Breton stripe. You can trace it back to 1850s as part of the French navy seaman uniform, long before Coco Channel made it widely popular in 1913. You can dress it up with a blazer or dress it down with jeans!

Signature Look. At the end of the day, I wanted my wardrobe to reflect my style. A good friend of mine, Lilian, who lives in Singapore, once pointed out that high neck/halter top is one of mine. I did not realize that until she mentioned it. The two favorite parts of my body are my shoulders, as they have gracefully carried my life's load, and my feet, as they've taken me across oceans, therefore, I tend to accentuate these features the most.
Are you a little torn in this area? Find it cumbersome to pick a feature you think is best? Ask your close friends or family for input!
Well, this episode has gone a bit longer than I thought it would. So, go on… try it with me! Here is to lightening your closet – cheers!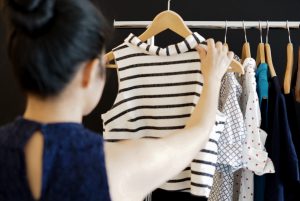 Related
Related posts