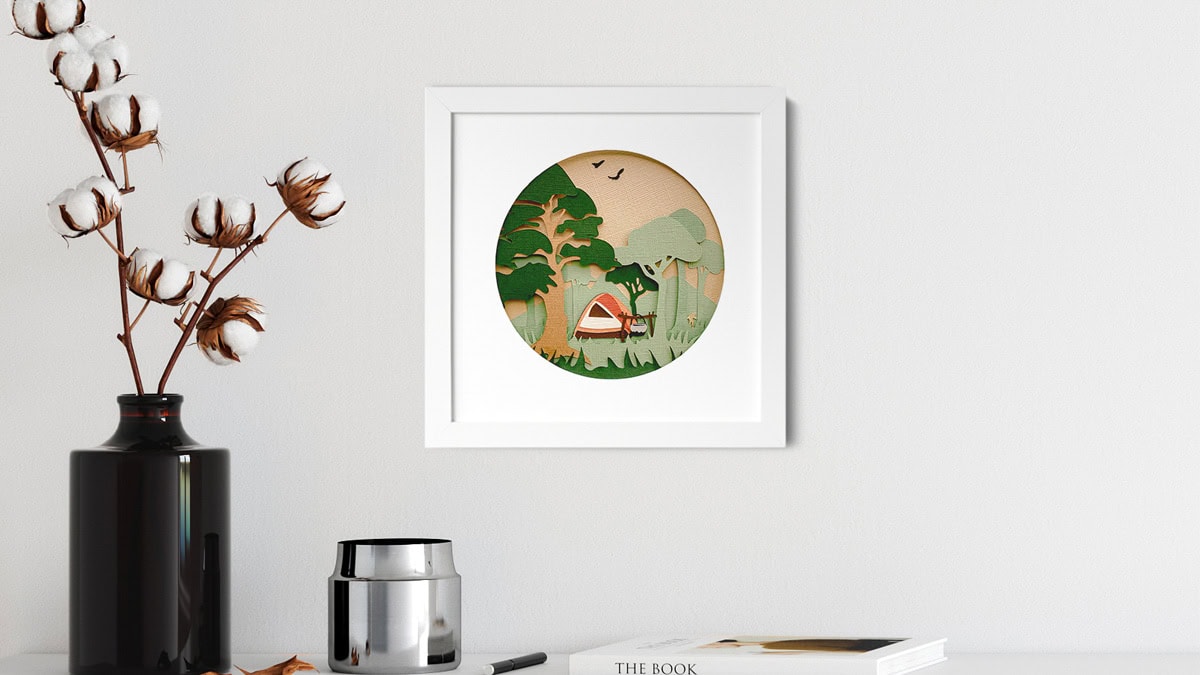 Hello! The materials and resources you obtain from this blog are available to you at no cost for personal use.
Camping Scene Paper Art
Richelle, 3 years ago
0
7 min

read
4325
What this is about
With Father's Day and the first day of summer just around the corner, this article shows you how to successfully create this camping scene paper art (wall art or card). I think this would be a good time to infuse some fine art influence in your Cricut project.
This paper art will be a labor of love, fitting for a special occasion like Father's Day. When I was working on this, I originally intended to film it, however, as I was troubleshooting and working through the preliminary stages of its design, I got too engaged, that I kept forgetting to hit the record button. I ended up with only snapshots to show you but will try harder to work on an actual video for next time. After going through hurdles and ironing out some of its design kinks, the experience was almost zen-like.
This camping scene paper art is not for the faint of heart. The challenge it brings is due to its intricacy, however, I am confident that with attention to detail and patience, you can do this.
Because this is a little more complex than my previous project, which you will find here, I encourage you to read this post. Here, you will find some helpful tips to make this project successful.
I am proud of this piece and so excited to share it with you. Once you complete this, my hope is that you will feel the same way. So, let's read on.
Create!
Things you will need for this camping scene paper art:
Cricut Maker / Explorer (or any SVG friendly die-cutting machine)
Cricut Mat (blue or green depending on the thickness of your cardstock)
Cardstock Papers (textured preferred)
Craft paper glue
Double-sided foam / mounting tape
Cricut weeding tool (for small and intricate pieces)
Pair of scissors and or Portable Cricut trimmer
Ruler (as you center the pieces on the background paper)
Download "Camping Scene" SVG by logging in to my design resource page. You will receive access through your email below, and the password via email 24 hours later (working on getting this quicker).
There will be two file formats – square and rectangular.
If you intend to make this a card, please make sure to read the card section below.
What type of cardstock do I recommend
The thickness of your cardstock is an essential part of this. I don't know the exact paper grammage (density) of the cardstock I have from Joann's as it doesn't state this information; however, it is heavyweight. Utilizing a thick paper provides better support for the layers you will have.
Adding texture to your work helps accentuate shadows and highlights; therefore, I highly recommend using textured paper as opposed to smooth ones; after all, nature is full of patterns and textures.
As for color, below is a palette for your reference. You don't necessarily have to stick to these colors. This palette serves as your guideline if you wish to apply the same hues I used. I opted for a more muted color tones, inspired by Japanese woodblock prints popularly used in the 17th to 19th century, otherwise, known as the Ukiyo-e (hear pronunciation here) artistic genre.
Why use different shades of one color?
The variation of the tint/tone of the color gives this paper art a more visual appeal. You certainly can use one shade for your trees; however, the different tonalities create more depth and interest.
Do I need a different format for the card?
Know that if you create this as a card, it could also be made into a wall art. Remember, a card will require a thick, long strip of cardstock (actual card cover), which can be hard to find; however, you can use a poster paper (Dollar store has them), and cut them to fit into a 12 x 24 Cricut mat.
To use as an example, I uploaded this into Cricut Design Space based on the dimension of an 8 x 8 square format with a thickness of .25 inch. If you chose to add scoring, taking into consideration the height of the layers, therefore, you will have two scoring lines. If this is too tricky, do a small cardstock, add the scoring lines, and see if it has the right height.
The Process : Camping Scene Paper Art
STEP 1: UPLOAD. Upload the downloaded SVG to Cricut Design Space, and adjust the size of your project, however, please note that going too small may cause problems with cutting the tiny pieces. If you wish to go lower than 8 x10 (rectangular format) or 8 x 8 (square format), try to do a trial cut for the smallest parts before committing.
STEP 2: CUT. Using Cricut DS, proceed with cutting the pieces. Try to be strategic with your method. Here below are some tips.
TIPS
TIME. Make sure to allocate enough time to do this project. The actual cutting time with my Cricut Maker was about 10 minutes using snap mat method. What will take time is putting the pieces together, but with a splendid result.
SHARP BLADE: First and foremost, I cannot stress enough how much a sharp blade will save you from getting frustrated with this type of project. If the machine is not cutting well, ask yourself how old is your blade. Secondly, if the fine-point blade is relatively new, check if you have the right type of settings. I recommend using "Cardstock with intricate cuts" for heavy cardstock when it comes to projects like this. Lastly, the kind of mat you use could also have an impact. A brand new green Circut mat, may not be suitable, so instead, use a reasonably sticky blue mat. If you're still having problems and have gone through the troubleshooting above, check your cardstock if it's ideal for this project, and make sure you did not go lower than the recommended size.
SAVE TIME. I find that using snap mat cuts the cutting time and process in half specifically for the smaller pieces. However, please note that the snap mat feature is only available with the Cricut Design Space IOS app. If you're interested in this snap mat feature method, please read the snap mat section below.
STEP 3: ASSEMBLY. As mentioned earlier, I was unsuccessful in filling the actual step-by-step video; however, I think second to best are these snapshots. Please watch it, and hopefully you will find it helpful. 
Why Cricut Snapmat
This feature allows you to visualize your image placement on the mat by taking a snapshot of the actual Ciruct mat itself along with the material(s). You can then move the pieces around based on the colors you want the images to have. It is best to use the same type of paper grammage (weight) to ensure a successful cut since you are applying one cut-setting for all of them.
STEPS
Upload your image to Cricut Design Space. You may do this step directly on your IOS if you have access to your file by cloud or saved in phon or IPad's file folder. If you don't have both, you can use your desktop to upload and save the file to DS, then go back to your IOS (mobile) to proceed and retrieve by going to the UPLOAD icon, then choose "open uploaded images."

Place your materials on your mat. Group the smaller pieces on the top left side of the mat. This will help facilitate a more efficient motion when moving the images to their corresponding paper color.

Once you're ready to cut, click on MAKE. On the screen, you will find the SnapMat icon.

Capture the mat. This step can get a little tricky. What seems to work is to place it on a contrasting background. It also requires one to be steady. If you're having trouble, try placing the Cricut mat on the floor (with good lighting), right below the edge of a table, and utilize it as support for your device while you're trying to take a photo. The marks have to align for it to work.

Move your images. Great! You've snapped the mat! You will then move the pieces according to the material's color of your choice.

Cut. Once done, follow the prompts for the setting and proceed with actual cutting.
Stay Inspired,

R i c h e l l e
For more future fun projects, follow my Facebook page below and join me!
Related
Related posts